Okay guys.. besides a deliciously awesome recipe for funfetti cake, you are also going to get a great behind the scenes story.. stay with me.
A wonderfully, awesome person reached out to me about my Carrot Cake recipe (which you MUST go follow her IG: @heykackie and YT: Kackie Reviews Beauty) NOW… very important side note but I digress.. it was regarding food allergies and gluten free life. After a quick chat, I decided it was imperative I make one of our favs.. funfetti cake.
This Funfetti cake will literally make you feel like Friday or FriYAY. For many of my recipes, I have not developed GF or refined sugar free options. I am super inspired by Kackie and hope to help others with allergies have better alternatives because hell yes to food and feeling like you can almost eat normal. Plain and simple.
So be prepared for a revamping of the recipes on this website to include GF/SF alternatives or swaps for baking and sleeker recipes cards for printing SOON.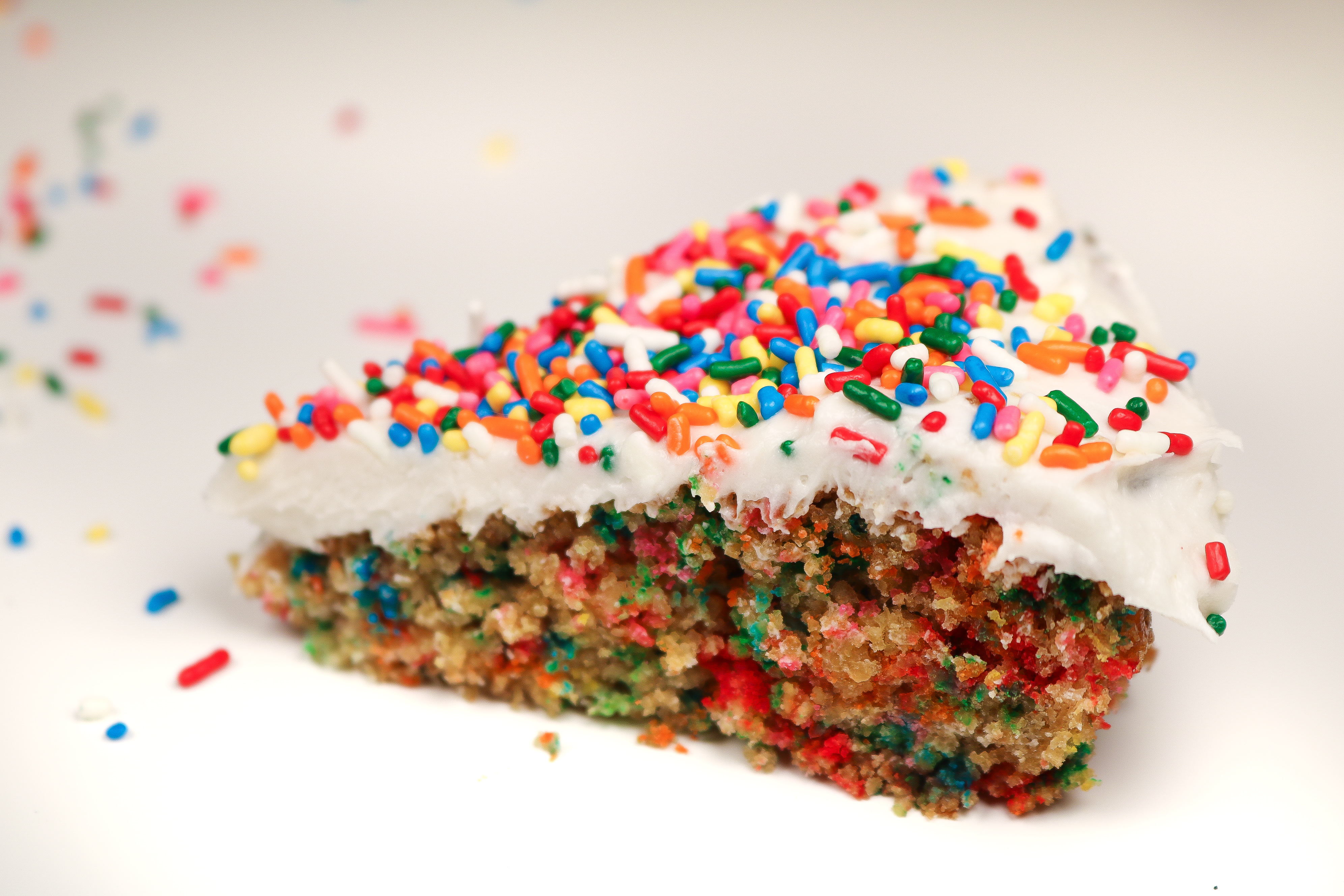 Gluten free baking itself can be a little tedious with long ingredient lists so I have tried my best to make this super simple. Even with this recipe, I have baked it four times in the past month and found that even little measurement differences make a huge difference. Gluten free baking can be quite temperamental. So don't get discouraged or super creative with ingredient mixups.
Make you think it's Friday FUNFETTI cake (refined sugar free, gluten free)
Ingredients:
3 cups GF oat flour (for this recipe I even us Bob's Redmill GF oats and blended it in my vitamix until super smooth flour consistency. Both works wonderfully)
1 cup maple syrup
1 tsp baking soda
1/2 tsp himalayan pink salt
1 cup non dairy milk ( I prefer almond milk for this recipe for a more compliant taste)
2 tsp pure, organic vanilla extract
1/3 cup olive oil (or vegetable oil of choice)
1 tablespoon organic apple cider vinegar
1/2 cup to 3/4 cup funfetti sprinkles
Instructions for cake:
Preheat oven to 350 degrees
Sift oat flour, baking soda, salt into a large bowl until well combined.
In a separate small bowl whisk together gently apple cider vinegar, almond milk, olive oil, and vanilla extract.
Slowly add wet ingredients to the large bowl until well combined but don't beat it to death. Truth, don't get crazy and over mix batter (stated in the Bon Qui Qui real talk).
Grease two 7 inch round cake pans. Divide mixture evenly between the two. For 9 inch rounds, I recommend that you mix two batches of the cake mix. There will likely be 4-5 cupcake size amounts leftover BUT this will ensure a normal size cake for each pan. I wasn't kidding when I said GF baking was little temperamental.. very doable, but temperamental.
Bake for 20-30 minutes. Cake will be golden brown and when a toothpick is inserted, it should come out clean
Most important: ALLOW cakes to cool completely before removing from the pan. This allows the cake to set. Remove from the pan very gently once cool.
Get to icing! Start the recipe below once your remove the cakes from the oven.  Top with funfetti sprinkles and pretend or celebrate FriYAY.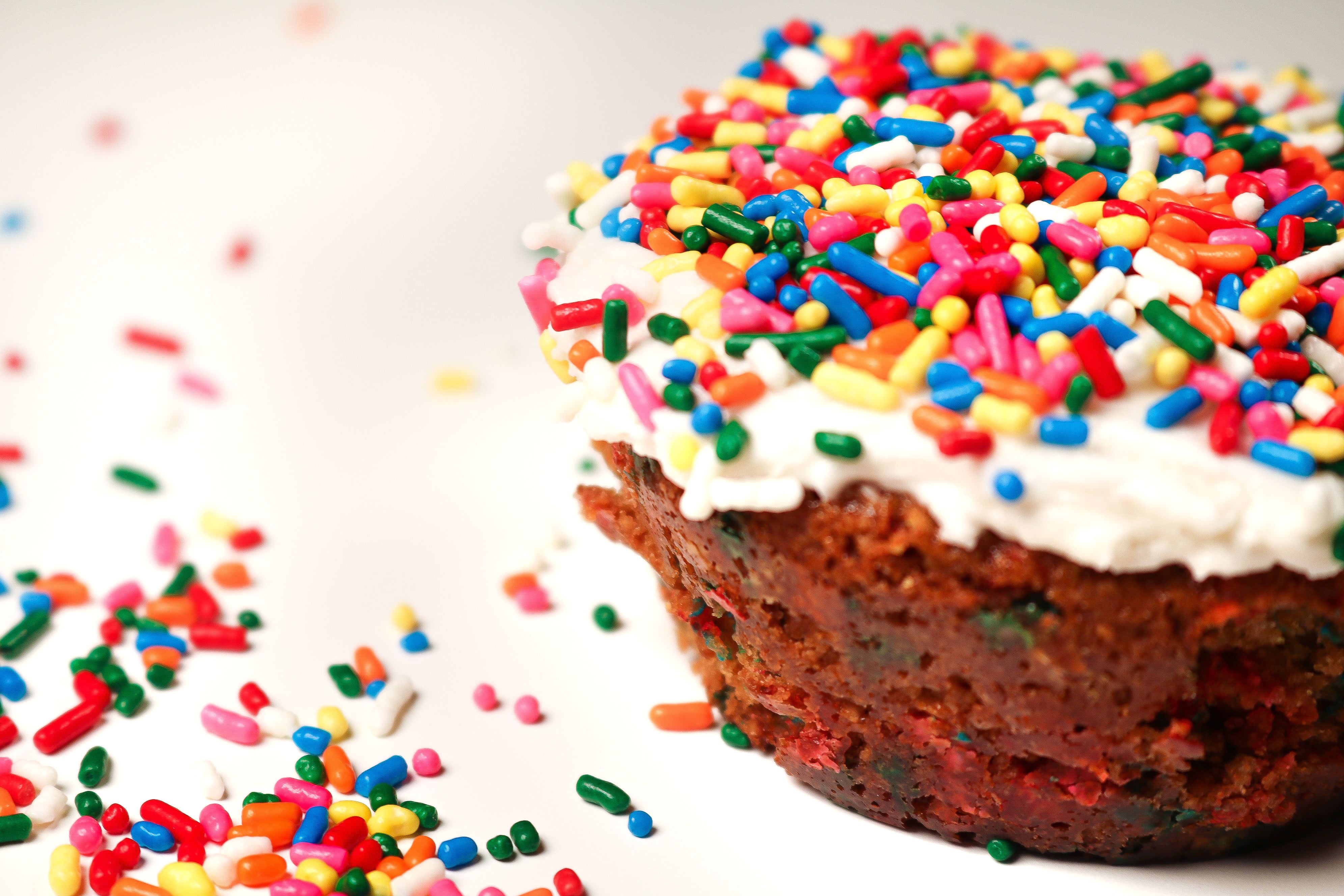 For the ICING: 
Ingredients:
2 cup vegan butter (coconut butter works so great too)
1 cup maple syrup
1 cup coconut oil
1/2 cup coconut flour
1 tsp organic, pure vanilla extract
In a food processor or Vitamix, combine all ingredients until smooth, whipped like, icing consistency.
Store in fridge 10-20 minutes.
Remove and re-whip before using.