This sweet potato nourish bowl is packed with plant based protein and southwest flavors. This is the first week of the #livingwhole LOVE YOUR LUNCHES. Perfect and easy to make ahead of time and to pack for lunch.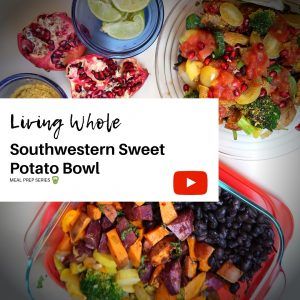 Ingredients:
3-5 medium sweet potatoes, russet potatoes, and purple sweet potato (choose your own variety), chop into cubes
1 tablespoon olive oil
1 teaspoon chili powder
1 teaspoon paprika
1 teaspoon garlic powder
1 teaspoon cumin
1 teaspoon onion powder
2-3 tablespoons of taco seasoning
Freshly ground black pepper
For the bowls:
4-6 cups mixed vegetables (for this bowl I used broccoli, squash, mushrooms, and onions)
4 cups black beans, rinsed and drained
1 cup fresh chopped cilantro
Options to garnish:
Avocado, lime, cilantro, salsa, pomegranate seeds, nutritional yeast
¼ cup chopped cilantro
Instructions:
Preheat oven to 350 degrees F. Line a large baking sheet with parchment paper. Place sweet potato, russet cubes on parchment paper and drizzle with olive oil & sprinkle with spices. Use your hands to gently toss potatoes with the oil and spices until they are well coated. Spread out evenly, then bake for 20-25 minutes or until sweet potatoes are fork tender.
While sweet potatoes are baking, prepare your black beans, chop your choice veggies, and gather garnishes.
In a large sauté pan, sauté your veggies in a small amount of olive oil and water.
Bowl or plate this recipe for the week! Viola.
For a great visualization, check out the Living Whole meal prep series youtube video by clicking HERE! This will be a weekly video for you guys.
#livingwholewithsarahdavis #healthontheborder