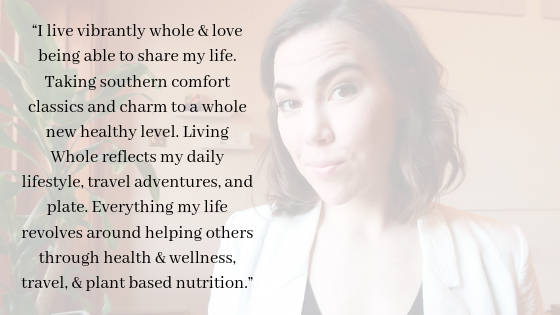 When and why Living Whole got started.
In high school when my peers were struggling with the ever embedded question of "what I want to be when I grow up," I already knew. I wanted to be a Nurse. I wanted to help people. I have traveled all across the United States as an Electrophysiology and Cardiac Cath Lab RN. Through those years of experience, Living Whole began as an outlet for me to assist people even further with chronic disease, ineffective weight management, and generalized lack of wellness. Blending passion and profession, I became an American Naturopathic Medical Board Certified Holistic Health Practitioner. Living Whole has evolved into my whole life.  I live every aspect of it and want to share it to allow others to see how effortless health and wellness can really be.
— My whole life is your whole guide to health.
Not all who wander are lost.
I have always had a sense of wanderlust.. even now as I travel freely, the more places I visit the more I realize how little I know. This world is big and beautiful. Traveling brings great experiences and enlightens. It is thrilling and exciting, but it can be difficult to stay healthy on the road. Always on the run in our EVERYDAY lives can lead to not healthful habits. I am striving to show people that living balanced and whole can be done. We each have our own unique journey and paths. I encourage you to be curious, explore the foods and experiences that empower you, and to be kind and compassionate to all.
I love to cook, bake, simmer, and sauté. Growing up, moving around the kitchen came with ease. Food is art, it's inspiring, comforting, and even rejuvenating. Food is pivotal to everything we do in life. Whenever possible, I choose whole food, plant based, organic, and local options. Our food culture has embedded a sense of fear and restriction with foods. It's time to change this. My recipes developed range from comforting favorites to seasonally inspired culinary gems. Food is balance. Life is balance. I am blazing and pioneering a healthy path for southern flare by taking southern comfort classics and charm to a whole new healthy level.
What do I have to offer? 
Tools and resources to reach YOUR best health
Personalized consultations and coaching
 Speaking engagements
Cooking Lessons/Demos
Health and Wellness Workshops
Corporate events/workshops and wellness program planning
Sponsored content and posts
Recipe development and food experience programming (individual and professional)
Food photography
Guest blogging/collaborations
Brand consulting
Simple, evidence based, real life health
Ready to work with me? Feel free to contact me. I love assisting my favorite health oriented brands, people of all health journeys, employers interested in investing in their companies health, consulting, and more! I'd love to hear from you and how we can work together to achieve your goals and create a healthy, happy partnership.
If you just have questions: Contact me below. I can't wait to hear from you! 
CONTACT: